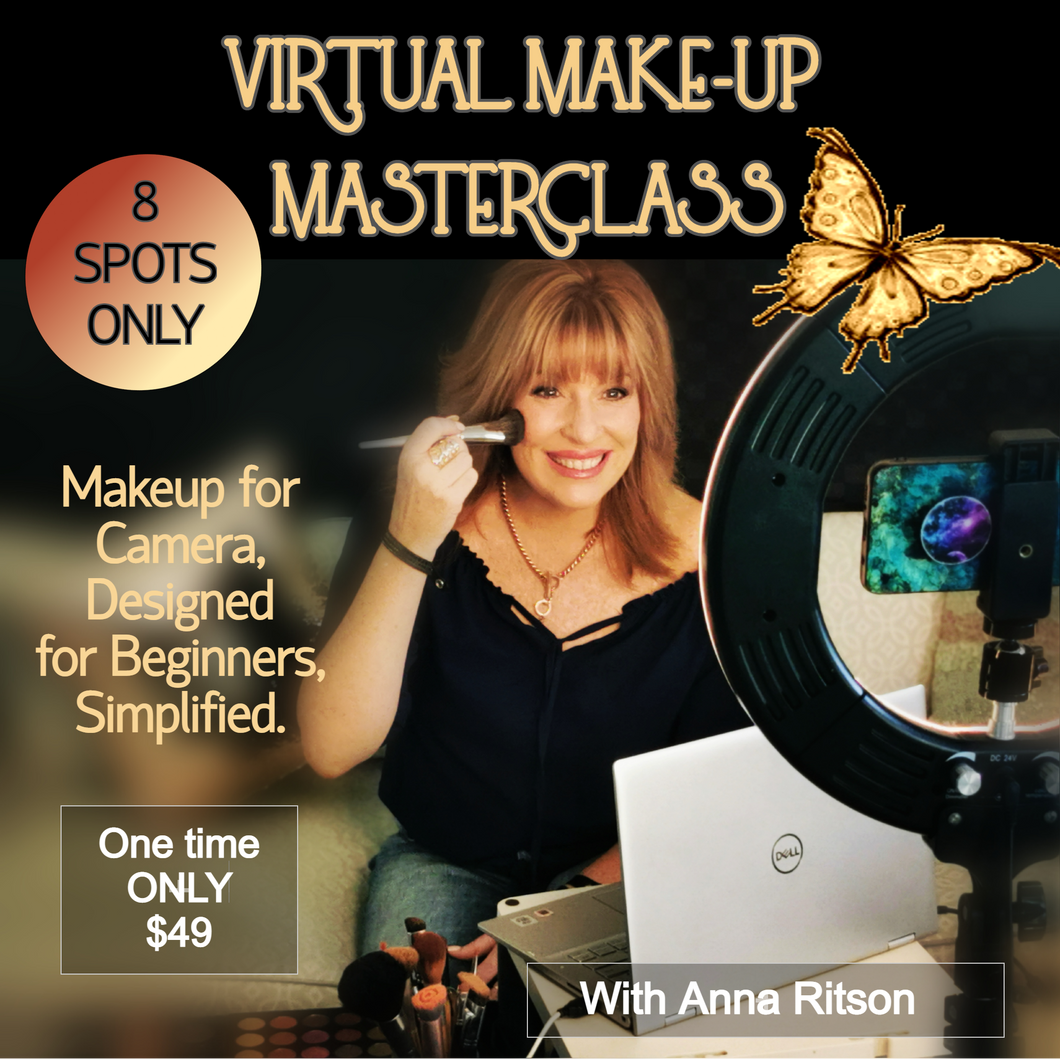 Virtual Make-Up Masterclass for Beginners, Simplified.
Regular price $449.00 $49.00 Sale
Confidence on Camera by just the way you look, will make all the difference in how you come across.
This Virtual Makeup Masterclass is designed for beginners, and it's simplified.
You'll learn how to ...
Choose the right Foundation.
Contour & Highlight for definition.
Blush to uplift.
Bronzes & Highlighter, no disco ball look.
Eye-shadows for popping eyes.
Lips that make you look like there's more makeup on.
The right Makeup Tools
PDF Face Chart
FREE E-Book when you sign up.
Recorded for your use only.
This hands-on Make-Up Masterclass contains training, and also includes product lists.  It will be recorded so you'll be able to watch it as many times as you like, so not only you'll be able to learn and consume all the gold that's inside at your own pace, but also access it instantly from any device and any place in the world.
Increase your makeup skills for being in front of a camera, zoom, phone, learning NEW techniques, step by step that only a Professional can teach you – insider tips by getting advice from a Professional MUA that's already done it.
Save lots of money, as you won't be buying the wrong cosmetics anymore.
This all-inclusive virtual Masterclass allows you to learn new techniques without leaving your home!
Do's & Dont's to enhance your natural beauty.
YES! GET MY SPOT (Add to Cart)

Life changing education and learning experience for personal growth within yourself and your business.
You'll also receive my Personal "7 Secrets to Looking Younger Every Year" E-book.
You'll receive a full product list from everything that is shown with an active link, so you can update your makeup bag with recommended products stress free.
And for everyone that joins, you will be getting a BONUS 20% off your first order, and no minimum spend either.
Unbeatable price, THIS TIME ONLY!
A LIVE Q & A session will be held after, with any questions.
YES! GET MY SPOT (Add to Cart)

Q: "Will I gain enough information to make improvements"
A: "Absolutely, this Virtual Make-Up Masterclass is designed for beginners, for people that just want simple, easy to do makeup starting from the basics.  This information will improve your confidence, AND as an expert, I can assure you to getting it right without it taking forever to learn.  There is tones of tips and tricks which you can soak in and practice for years to come."
A Note from Me:
"No need to watch the same ol same ol makeup artists that only do makeup on their own face, and have no experience with working on others. I have had the pleasure of working with hundreds of individuals to get the results that absolutely work for each and every one, not generated like an assembly line."
YES! GET MY SPOT (Add to Cart)

This total value of $449+ is yours for this ONE TIME ONLY PRICE OF $49 for the first 8 people.
Come and have some fun, you'll meet new people too.
Anna X